Bring the transformative power of action civics to your school community!
Get a taste of our powerful teaching and learning practices! Our programs can:
foster inclusion, equity, and representation;
create democratic classrooms that drive outcomes;
empower students to identify problems, design solutions, and present them; and
reshape communities through youth voice and youth-driven change.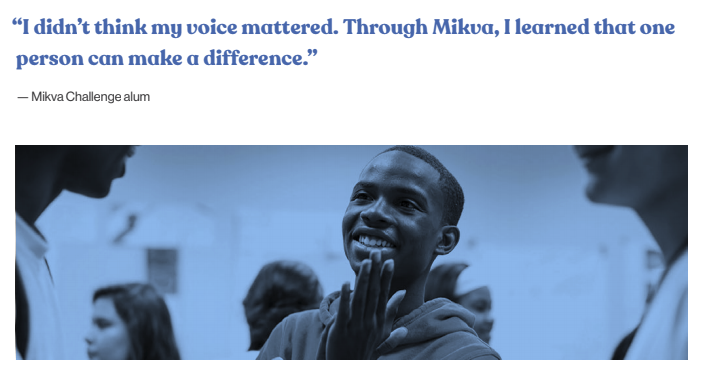 All of our materials are designed to make it easy for teachers to implement and facilitate lessons flexibly, based on their own pacing and curricular priorities.
In these samples, you'll find lessons that use our Bell-Ringer, Before, During, After method, as well as a range of digital resources from the licensable curricula.
Many school partners engage our professional learning services to help them design and execute successful programs at the district level. Please reach out to Mikva Challenge directly to learn more!
We hope you will find lots of inspiration to create moments of action like this for your students:

Third-Party Website Disclaimer
This curriculum includes third-party links or materials that are provided solely as a convenience to you as educational resources and you access and use them entirely at your own risk and subject to such third parties' terms and conditions. As a nonprofit corporation and 501(c)(3) public charity, Mikva Challenge devotes its efforts toward its charitable mission and does not promote or endorse third-party sites.