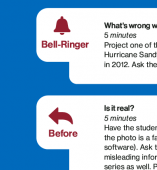 Overview of Online Lesson Format
This resource outlines the format for most online Mikva Challenge lessons.
Most lessons in our online Mikva Challenge curriculum follow a consistent format, including a Bell-Ringer to begin, and then sections called Before, During, and After. This resource provides an overview of our online lesson format.
Learning Tools
Infographic